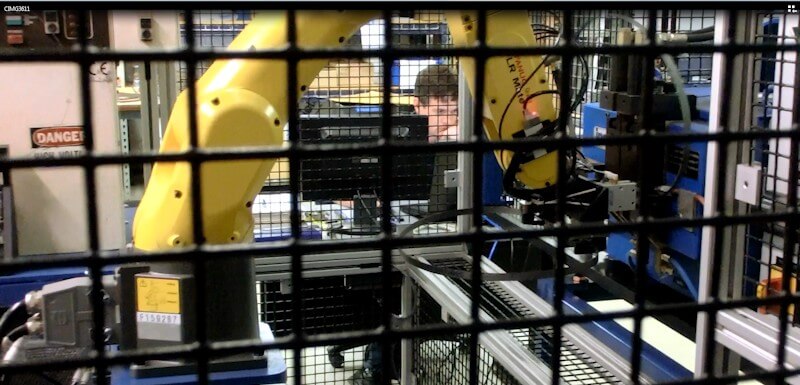 Portaband Saw Blade Automation Robot Work Cell
Application: Material Handling, Welding, and Grinding
Industry:  Tools
Solara Automation's customer manufactures portable bandsaw blades.  Solara's engineers were challenged to build an automation cell that fed the raw material, formed the blade into a loop, weld the ends together, anneal seam, and grind the seam.
Solara engineered and built a three-robot cell.  The blade material is fed in on reels, looped into the proper shape. To ensure accuracy of blade alignment, the ends of the blade are imaged by a vision system and the position data is fed into the robot for fine tuning the independent gripping of each end of the blade.
The robot transfers the blade to one of two welder heads. To allow for continuous production, a rotary table was implemented so one welder could be used while the other was being cleaned. After welding, the blade is transferred to an annealing station.
After annealing, the blade is transferred to one of two grinding stations by the second transfer robot. To meet cycle rate, two grind stations are used so the grinder robot can continuously grind while the transfer robot loads and unloads the grind stations. The grinder robot and grind stations with 3 position blade tensioners work together to allow access to all 4 sides of weld seams.
Project Features
4 parts / minute
3 Fanuc LR Mate robots
Quad gripper end-of-arm tool
Diamond coated grinding wheel end-of-arm tool
Dual welders on rotary table
Camera: Fanuc iRVision
Allen Bradley PLC controls
Gallery of Bandsaw Blade Automation Robot Work Cell
To enlarge a picture and scroll through the gallery...
Click or tap the right side of the photo to go the next image
Click or tap the left side of the photo to go the previous image