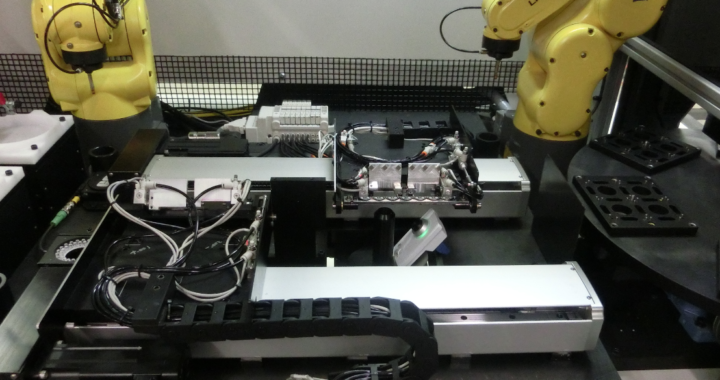 Robotic Welding Cell for Cover Assembly
Robotic Welding Cell for Cover Assembly
Application: Material Handling, Laser Welding - Robotic Welding Cell for Cover Assembly
Industry: Electronic components
Customer product is small (0.09" x 0.011") gold part used in electronics industry. Needed to bulk feed components, assemble components together, laser weld them, and package in both trays and stacks.
Solara designed and built a three-robot cell. To run a wide range of product sizes, two flexible vibratory part feeders were utilized. The timing of the feed/spread cycles is controlled by the load robots. The robots locate the parts using overhead cameras and the integrated feeder backlight.
To make rate, the two load robots each load one component from the feeders to the assembly nests, alternating with precise timing and anti-collision algorithms. To achieve the high tolerances required, after the initial pick from the feeder each part is passed over an upward facing camera, which takes a high-magnification image of the part on the robot tool. Position data is passed to the robot, which makes an on-the-fly correction before placing it in the nest.
The nests tilt, shake, and clamp the parts to align and hold them in position for the index to the laser welder. To weld any desired pattern, servo-driven slides move each of the nests as well as the welder head. After each part is indexed above the weld head, a third robot unloads the parts into either trays or stacks, depending on the part recipe. An indexing dial presents the finished parts to an operator outside the guard frame.
Features of Robotic Welding Cell for Cover Assembly
30 parts / minute
3 Fanuc LR Mate robots
Custom vacuum nozzles on spring-loaded end-of-arm tools
Flexible vibratory parts feeders with integrated backlights
Dual nests and welder head on dual servo-controlled slides
Indexing outfeed dial
5 Cameras: Fanuc iRVision
Gallery of Robotic Welding Cell for Cover Assembly
To enlarge a picture and scroll through the gallery…
Click or tap the right side of the photo to go the next image
Click or tap the left side of the photo to go the previous image
Videos:
F:\Coining\COI2\CIMG2615.MOV