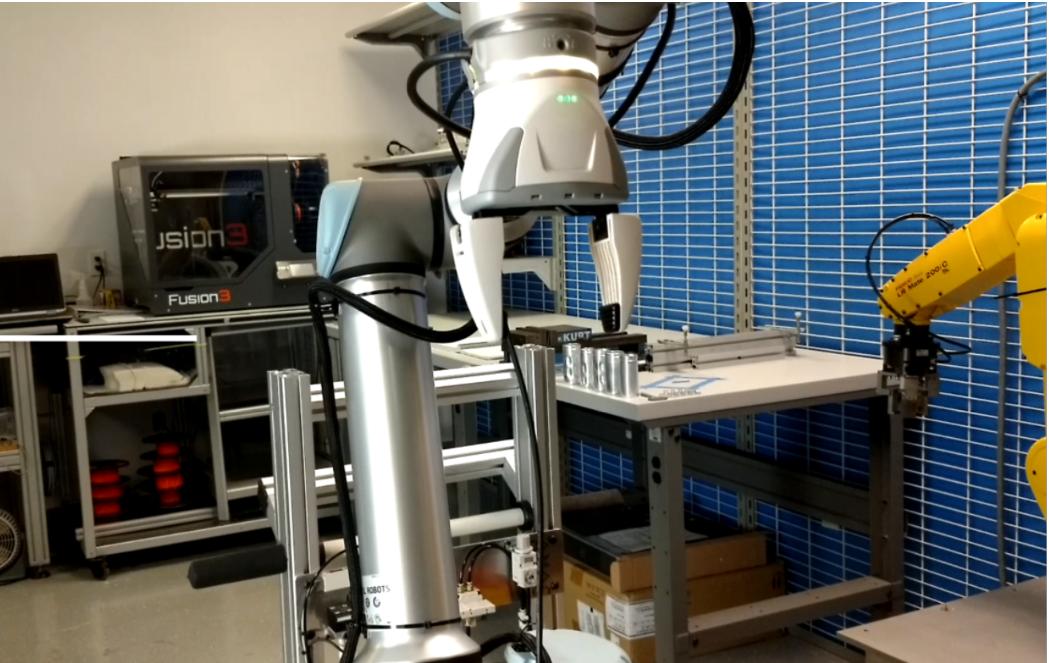 Collaborative Capacitor Inspection Utilizing the UR10e Robot and IFM 3D Profiler
For this Solara Automation lab demo we chose a bench mounted IFM OPD100 3D Profiler interacting with the Schunk EGH Collaborative Gripper installed on the UR10e Universal Robot. The application challenge was to establish a way to verify the capacitor type and the correct workpiece orientation for insertion into a fixture.
The UR10e Universal Collaborative Robot is equipped with special safety sensors that prevent injury to a human if contact is made with an operator. This feature allows the robot to safety operate in close proximity to humans without the need for expensive safety fencing or light curtain protection.
The Schunk EGH Electric Collaborative Gripper was chosen for the EOAT. It's designed to be a flexible gripper with a long adjustable stroke for simple automation with cobots. Suitable for the moving of small to medium-sized workpieces in the areas of handling, assembly, and electronics.
Some of the unique features of the Schunk EGH Collaborative Gripper and why we chose it
Airless all electric design that is ideal for laboratory environments
Long and freely programmable stroke for flexible workpiece handling
Plug & Play for a quick and simple start of production
Integrated status display for a visual indicator of the application state
Control via IO-Link enables the prepositioning of the gripper finger and feedback of condition
Gripping movement with parallel kinematics for constant gripping force over the entire stroke
Easily accessible quick-release fastener in the ISO pattern
Optionally attachable flexible fingers for increased flexibility and rangeWe setup the demo to show how the IFM OPD100 3D Profiler is able to translate orientation data to the robot and check for workpiece type to detect a changeover process. Leveraging our experience with Universal Robots and robot integration we created this demo video to simulate a real world scenario for 3D profile inspection for insertion and verification of workpiece type.

For more information on the Schunk EGH Collaborative Gripper, please visit: Schunk EGH Gripper

For more information on the OPD100 3D Profiler, please visit: IFM OPD100

To learn more about what we can do for your application, please visit: Solara Automation

Or reach us at (919) 534-1500 or info@solaraautomation.com