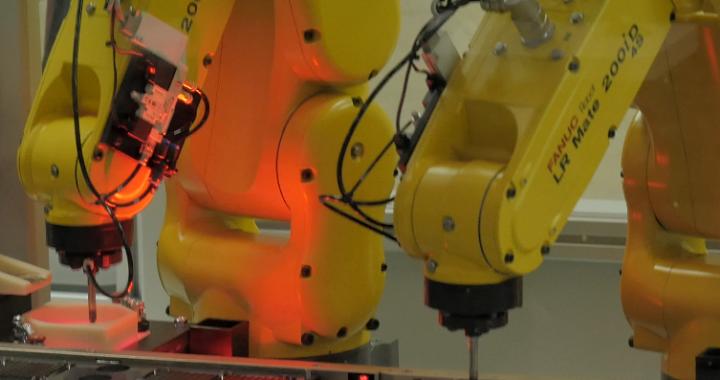 Tray Loader Robot Cell
Tray Loading Robotic Cell
Application: Material Handling
Industry: Electronic components
Solara Automation was selected by our customer to dramatically increase production of a tiny (down to 0.020" x 0.020") gold part used in the electronics industry. The system was required to bulk feed components and package them in trays of various sizes. The system had to be able to add new parts easily and to switch quickly between recipes.
Solara designed and built a robotic cell using two robots performing the same task. Each robot can be run independently to assure production if one should be down.   To make rate, two robots perform the same task.  The robots can be run independently if one of them is down for any reason. Interchangeable vacuum nozzles with IDs as small as 0.005" mounted on spring loaded tools are used to pick parts.
To run a wide range of product sizes, two flexible vibratory part feeders were utilized one for each robot. The timing of the feed/spread cycles is controlled by the robots. The robots locate the parts using overhead cameras and the integrated feeder backlight.
Because very high accuracy was required to fit such tiny parts into small pockets in trays, after each pick from the feeder the parts are passed over an upward facing camera without stopping. This camera takes a high-magnification image of the part on the robot tool. Position data is passed to the robot, which makes an on-the-fly correction before placing it in the tray.
To allow hours of unattended run time, a tray feeder system unstacks, feeds, and stacks 20 metal pallets holding 8 part trays each. The robots locate the trays with high precision using overhead cameras and backlights integrated into the tray feeder.
Features of Tray Loader Robot Cell
70 parts / minute
2 Fanuc LR Mate robots
Custom vacuum nozzles on spring-loaded end-of-arm tools
Flexible vibratory parts feeders with integrated backlights
Indexing, stacking tray feeder
8 Cameras: Fanuc iRVision
PC controls
Gallery of Tray Loader Robot Cell