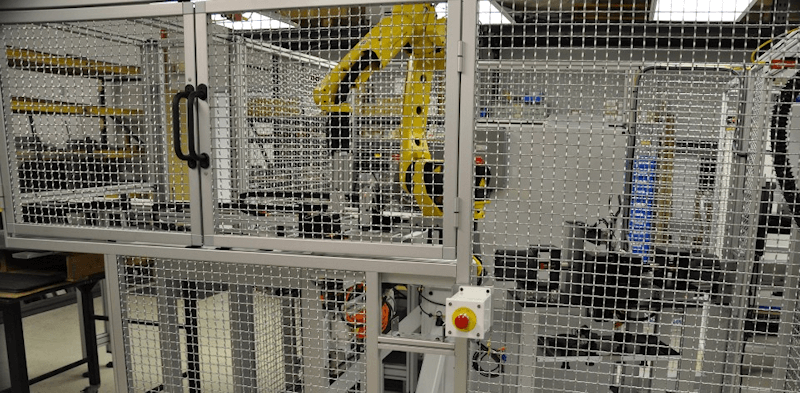 Robotic Press and Furnace Load System
Application: Robotic Part Processing
Industry:  Automotive
Project Criteria
Solara Automation's customer produces sintered metal parts used in engines. The automation requirements were to unload parts from a press, de-burr edges, place onto trays, and load into a furnace.  The automation had to be flexible to process 8 different parts.
Solara engineered and built a flexible robotic cell.  A robust, 3-axis servo unit first unloads the part from press, weighs it, and places it on conveyor.  Part is transferred to and processed in a de-burring station by pneumatic actuators. 
For flexibility in handling various loading patterns and the 8 different part sizes, a robot unloads the part from de-burring station and places it onto furnace trays.  A conveyor system automatically indexes the trays into the furnace.
Project Features
720 parts / hour
8 different parts with change out tooling
3-axis servo actuator unloads parts from press
Automatic transfer to scale for quality check
Indexing transfer conveyor
De-burr station with pneumatic part transfer/flipping/holding
Automated conveyor tray indexing
Fanuc 6-axis robot with R-30iB controller for flexible tray loading
Allen Bradley HMI/PLC controls
Gallery of Robotic Press and Furnace Load System
To enlarge a picture and scroll through the gallery...
Click or tap the right side of the photo to go the next image
Click or tap the left side of the photo to go the previous image