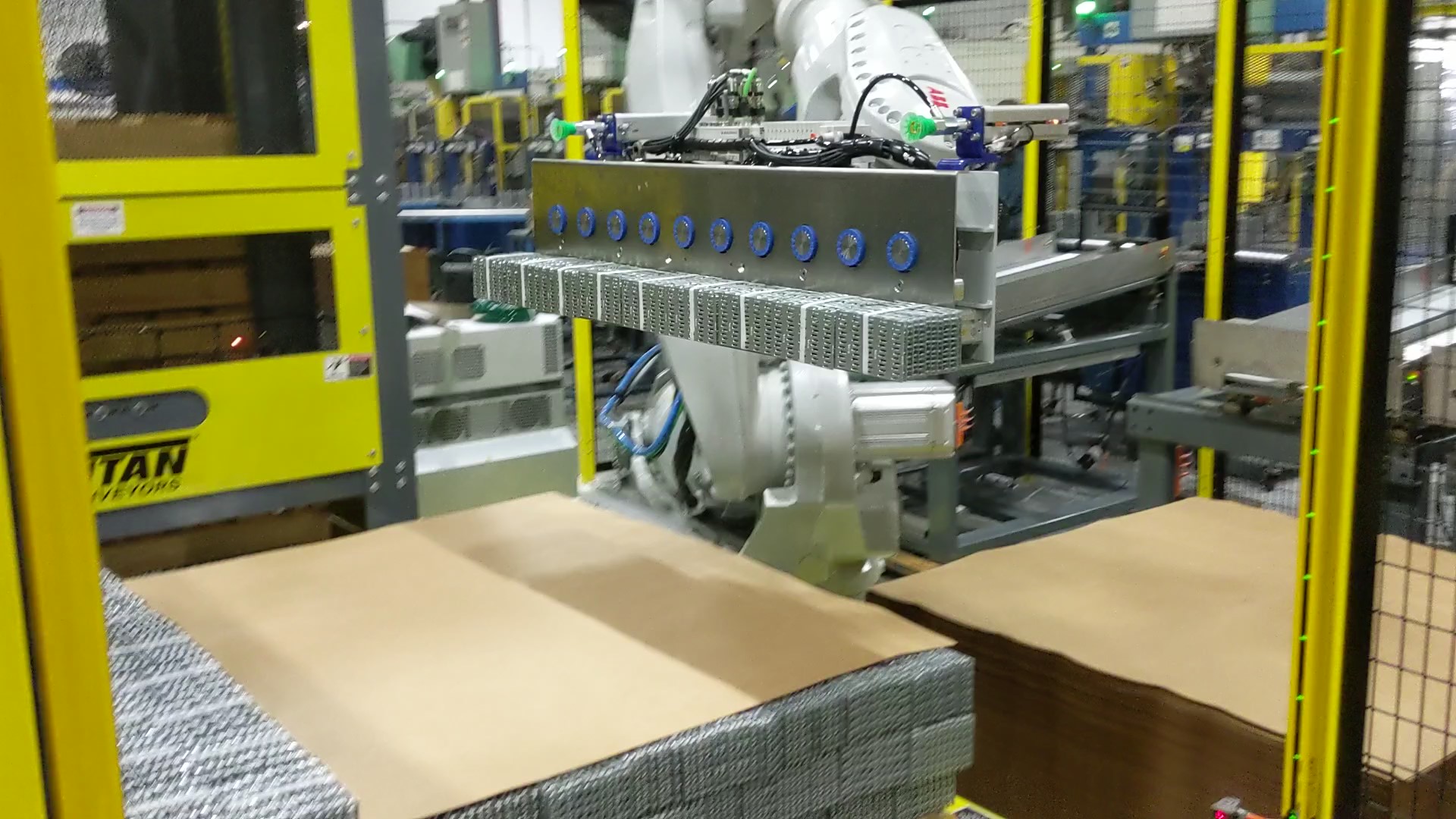 Robotic Palletizing System
Scope:
A leading manufacturer of builder products requested Solara to design, develop, and install an end-of-line robotic palletizing system for strapped bundles of nail plates.
Part/Product:
Zinc-plated steel nail plates bundled and strapped together in sets of 20 each. Nail plate sizes vary from 3"x4" all the way to 10"x16" for a total of 36 recipes.
Performance:
Maintaining four lanes of 40" length each with the capacity to build, pick, and place each lane of bundles on average every 15 seconds.
Sequence of Operation:
Inbound nail-plate bundles are transferred from the strapping machines via a flat-belt magnetic conveyor
Each of the four lanes has a custom-built steel table with two side-shifting inclined gravity conveyors
One incline conveyor builds buffer while the other serves as a pick zone for the robot
The End of Arm Tool handles an entire pallet row of product at a time
Before every pick the robot compresses the row of nail plates together
The robot picks and places a slip sheet before starting a new layer
Pallet are loaded while on a chain-driven roller conveyor that also brings in new pallets and outputs finished pallets, so a full pallet is conveyed out of the system at the same time a new pallet is rolled in
New pallets are automatically dispensed onto the roller conveyor by a pallet dispenser
The robot starts each pallet cycle by placing a slip sheet before putting the first row of nail plate bundles
The system can run unattended as long as the slip sheets last. An operator has to stop the system, open the interlocked door and change the slip-sheet pallet. Pallets can be loaded into the pallet dispenser without stopping the system.
Key Features:
The robotic system was placed in-line with the existing mechanical press, four bundling lanes, and strapping machines. Highlighted features were:
Incorporating four in-line pick zones that allow buffer build up without stopping or slowing down the press feeding system
Designing a single End of Arm Tool (EOAT) capable of handling up to 36 different size nail plates without any physical tool changes
Developing an inhouse cable management system for the complex moves of the EOAT
Programming robot moves to create a tightly packed stack since the customer needed to move the pallet with a forklift to a central stretch-wrapping station
Components:
The system consisted of:
Controls:
Turck TX500 HMI PLC with custom User Interface for selecting recipes and number of layers
Thru-beam sensors from IFM
Pneumatics:
All pneumatic components from SMC
Safety components:
8' tall modular machine guarding from Folding Guard
Safety light curtains and laser sensors from Keyence
Slip-sheet pallet access door interlock switch from Schmersal