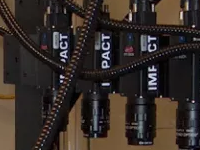 Pipette Vision Inspection System
Pipette Vision Inspection System
Application: Vision Inspection System for Clear Plastic Pipettes
Industry: Medical Devices
A vision inspection system was required to inspect clear plastic pipettes for eight defect categories.
Solara designed and built an automated machine to present parts to vision system. The vision system inspects for cracks, end cut, contamination, tip defects, weld integrity, scuffs, concentricity, and flash on pipets.
The first challenge was to mechanically orient and singulate the tubes so they could be presented to the vision inspection cameras. The various defect types required selection of different lighting and backgrounds for multiple cameras. Six images of each part per camera were taken while the parts were rolled in front of the cameras to detect the defects on the round outer surface of the pipettes.
Features of Pipette Vision Inspection System
300 parts/min, 6 images of each part
5000 part infeed hopper and lift conveyor
Double chain servo-driven conveyor with custom cleats
Pipettes rejected by servo-actuated gate based on results
6 PPT cameras running on 4 vision processors
Detects 8 defects on pipettes
Custom vision user interface displays inspection results and gives user control of system parameters
Gallery of Pipette Vision Inspection System
To enlarge a picture and scroll through the gallery...
Click or tap the right side of the photo to go the next image
Click or tap the left side of the photo to go the previous image