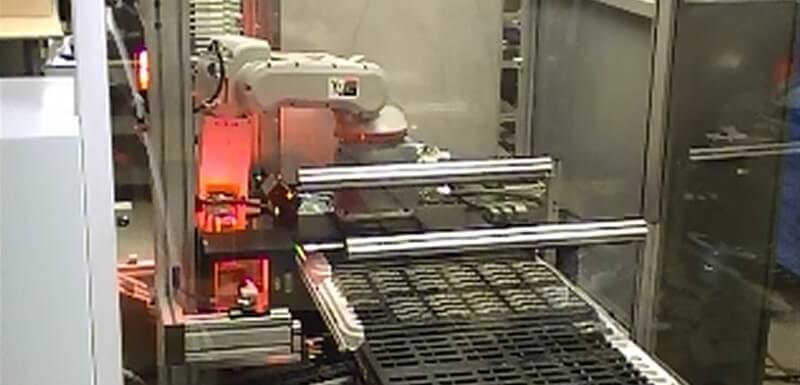 Inspection and Tray Loading System
Application: Inspection and Packing System
Industry:  Automotive
Project Criteria
Solara Automation's customer produces sintered metal parts used in engines. The requirements for the automation system was to inspect three different assemblies for defects and proper dowel insertion depth.  Inspected parts needed to be packaged out on molded trays.
Solara engineered and built an automated machine to inspect and package 3 different assemblies.  A robotic solution was used for flexibility. The robot was used to locate and grip the different assemblies, selectively present the parts at different angles to the cameras for inspection, and arrange them in a grid on trays.
A vision system was required to inspect for missing material, dents, and black specks as well as verify dowel insertion depth.  One camera also was needed to orient the robot for proper part pickup.  Another camera verified proper tray loading.
Project Features
1000 parts/hr
6-axis MH5 Motoman robot
Automated tray feeding from magazine
Servo-actuated indexing conveyor
4 PPT M-series cameras, one vision processor
Dynamically adjusts vision tool thresholds to deal with batches of parts in different shades of gray
Allen Bradley HMI/PLC controls
Gallery of Inspection and Tray Loading System
To enlarge a picture and scroll through the gallery...
Click or tap the right side of the photo to go the next image
Click or tap the left side of the photo to go the previous image