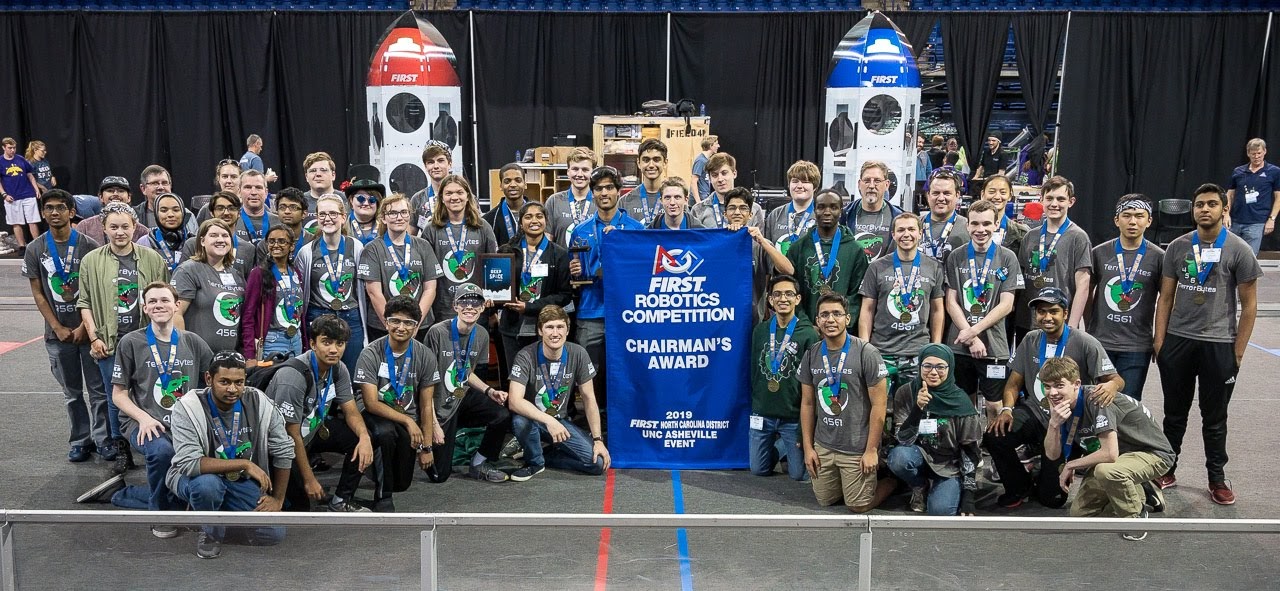 Coping with COVID, a FIRST Robotics Story.
Over the past few months, COVID-19 has impacted just about every aspect of our daily lives. The FIRST Robotics Competition (FRC) is no exception.
First Robotics
FRC is an international high school robotics competition. It was founded in 1989 by inventor and entrepreneur Dean Kamen, with inspiration and assistance from physicist and MIT professor Woodie Flowers. Kamen was disappointed with the number of kids, particularly women and minorities, who did not consider science and technology careers. He decided to do something about it. As an inventor, he looked for activities that captured the enthusiasm of students.  decided that combining the excitement of sports competition with science and technology had potential.
Each year, teams of high school students, coaches, and mentors work to build robots capable of competing in that year's game. FRC currently consists of 4,000 teams, with 100,000 students (Ages 14-18; Grades 9-12) representing 35 countries. On the surface, it is a robotics competition, but it is much more than that. It is almost a lesson on how to run a small business. Utilizing limited time and resources, teams of students are challenged to raise funds, design a team "brand," hone teamwork skills, and build and program industrial-size robots to play a difficult field game against like-minded competitors.
What I found most interesting about FRC is that they focus on two key competition mindsets. First, "Gracious Professionalism" embraces the competition inherent in the program, but rejects trash talk and chest-thumping. FRC teaches teams to embrace empathy and respect for other teams. Second, "Coopetition" emphasizes that teams can cooperate and compete at the same time. The goal of the program is to inspire students to be STEM leaders.
TerrorBytes
Solara Automation realized this program has many positive aspects that can help our youth and our community. We were eager to get involved and sponsor an FRC team. So we chose TerrorBytes, a team based in Research Triangle Park that we felt would benefit from the resources we could provide. For example, Solara Automation provided machining assistance for complex parts. This allowed the students to focus on design instead of hacking things together. We also gave professional engineering suggestions for the students' designs.
With our support, TerrorBytes, along with their two allied teams, went on to beat 62 other teams to become State Champions in April 2017. Later that month at the World Championships in Houston, they achieved semifinalist in their subdivision. Since then they have finished in the top 10 teams of the State every year. In 2018 they won the Gracious Professionalism award and in 2019 the Chairman's Award, FRC's highest honor.
COVID-19
Now in 2020, the team has had to face an unprecedented challenge, COVID-19. How do you recruit, train, and teach students in the new COVID world? With most of the events postponed, schools closed, and with spirits running on low, how do you continue? FRC has found a way. They extended the build time to one year, giving teams more flexibility in how they choose to operate. The TerrorBytes are working on staggered schedules and maintaining social distancing. Recruiting has moved solely online. They use webinars for training sessions. They adapted to these ways to stay healthy and safe while still working to create a robot that can perform complex tasks. The story of FRC, TerrorBytes, and COVID-19 is very similar to how we all have had to adjust, adapt, and overcome in this new pandemic world.
To follow Solara Automation to learn more about how we are working to be your cobot solutions provider, click here.
To learn more about the TerrorBytes and see videos of the competition, click here.
If you would like to know more about FRC, click here.