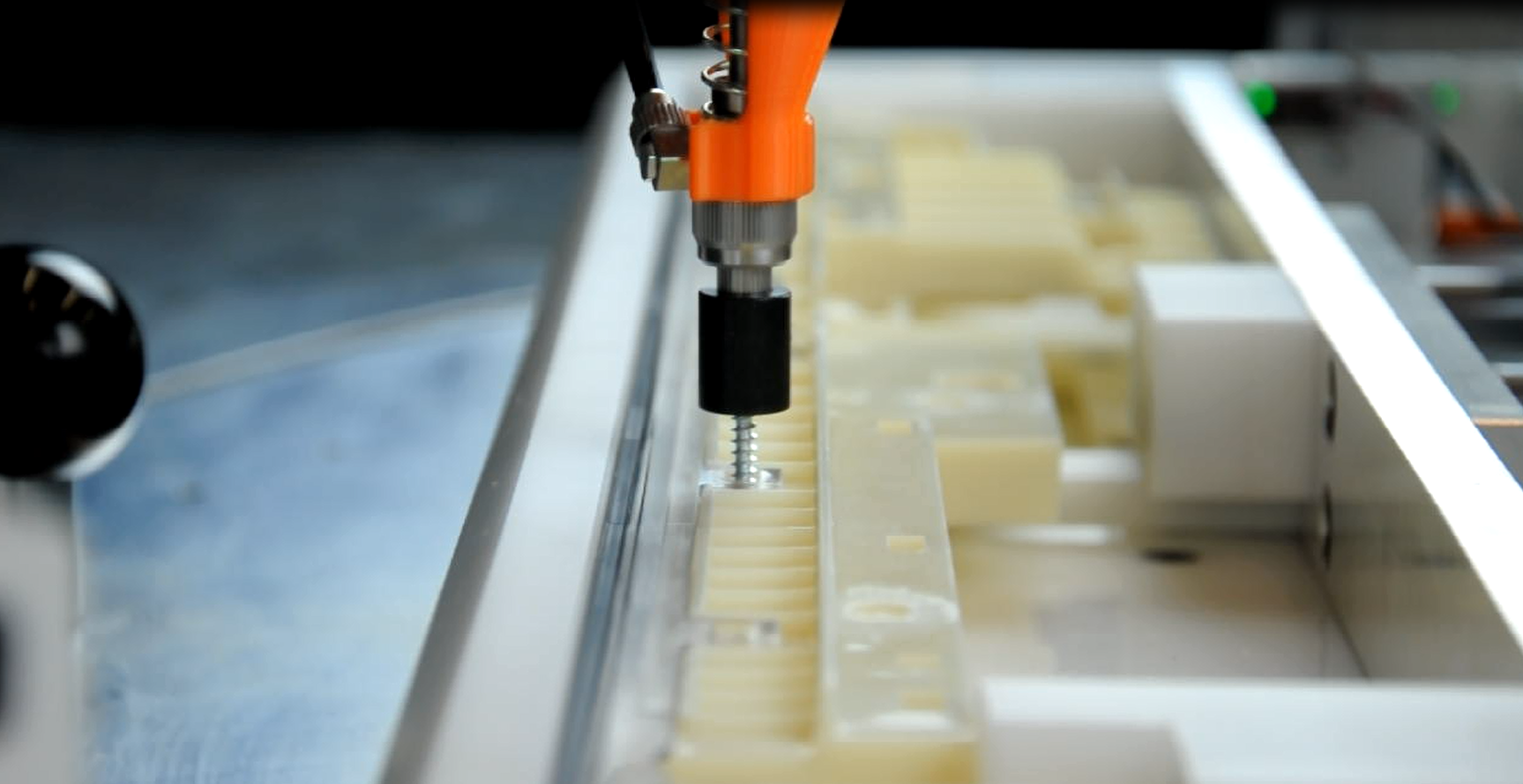 Collaborative Screw Feeding System by Solara Automation
Recently a customer came to Solara Automation requesting a custom robotic solution that was capable of precision part assembly including screw driving two separate parts together. This is a very common automation application, although getting a robot to perform these tasks reliably with the chosen work piece and type of fastener would be the automation challenge.
Solara Automation started by fabricated a precision fixture utilizing their in-house machine shop. This piece was used to securely justify and accurately hold the workpiece. Solara then programmed the UR3e Universal Collaborative Robot and integrated an automatic screw presenting system utilizing vacuum to pick each individual screw reliably. Then with an electric screw driving unit accurately and reliably attached multiple fasteners across a control panel driving them in with the cobot. This was a challenge since normally torx bits are very difficult to feed and pickup reliably with most common feeding/presenting systems. This process was development heavy and required multiple revisions of the end-effectors. The problem was that the existing off the shelf hex heads were loose and created vibration preventing reliable fixturing. Leveraging experience with custom automation Solara was able to engineer a custom 3D printed screw driving end-effector to reliably hold the fasteners in place allowing the drive unit to torque the screws to the correct specifications. This allowed for more repeatable fixturing and a significant reduction in scrap for misplaced or incorrectly fastened screws.
View the video below to see the system described above utilizing the precision fixturing justification and the automatic screw presenter paired with the UR3e Collaborative Robot. This system is ideal for many different robotic manufacturing applications. This simple machine operates in combination with automation & robotic screw driving systems. The compact size allows easy installation. The cost saving device makes the assembly process more efficient by mechanically presenting a screw to a fixed pick up point. Solara Automation creates custom automation systems that optimize resources, cut labor costs and increase production capacity.
This system allowed the customer to produce haptic appliance panels with more repeatable fixturing while achieving a significant reduction in scrap for misplaced or incorrectly fastened screws. The system was completely designed, built, programmed, and tested in-house by our expert engineers and technicians.
To learn more about what we can do for your application, please visit: https://www.solaraautomation.com
Or reach us at (919) 534-1500 or info@solaraautomation.com